Thai cuisine has to be the top of my list of favourite foods. Both Laura and I have spent a fair amount of time over in Thailand and as a result, it's shaped the way we cook a lot of our food.
This dish, the massaman curry, is a Thai staple. I don't know how many of them I ate when we were backpacking over there but they were hand-down my favourite meal.
One of the awesome things about a massaman curry is that it can be as spicy or as mild as you'd like it to be. With a lot of other Thai curries it can be fairly tough to judge the level of spice, but because the massaman isn't traditionally very spicy, it'll cater for all those in your household who aren't too fond of chilli.
If you're ever over in Thailand and want to taste a massaman curry that is better than I could ever dream of making, take a trip down to a small little cafe called Papaya in Koh Phi Phi and prepare to have your mind blown!
Just a side note for serving suggestions, this works really well with a bowl of sticky rice or with some Thai jasmine rice (you can pick up jasmine rice at most supermarkets). You don't need much more than that because the dish is so filling by itself.
Download the Printable Recipe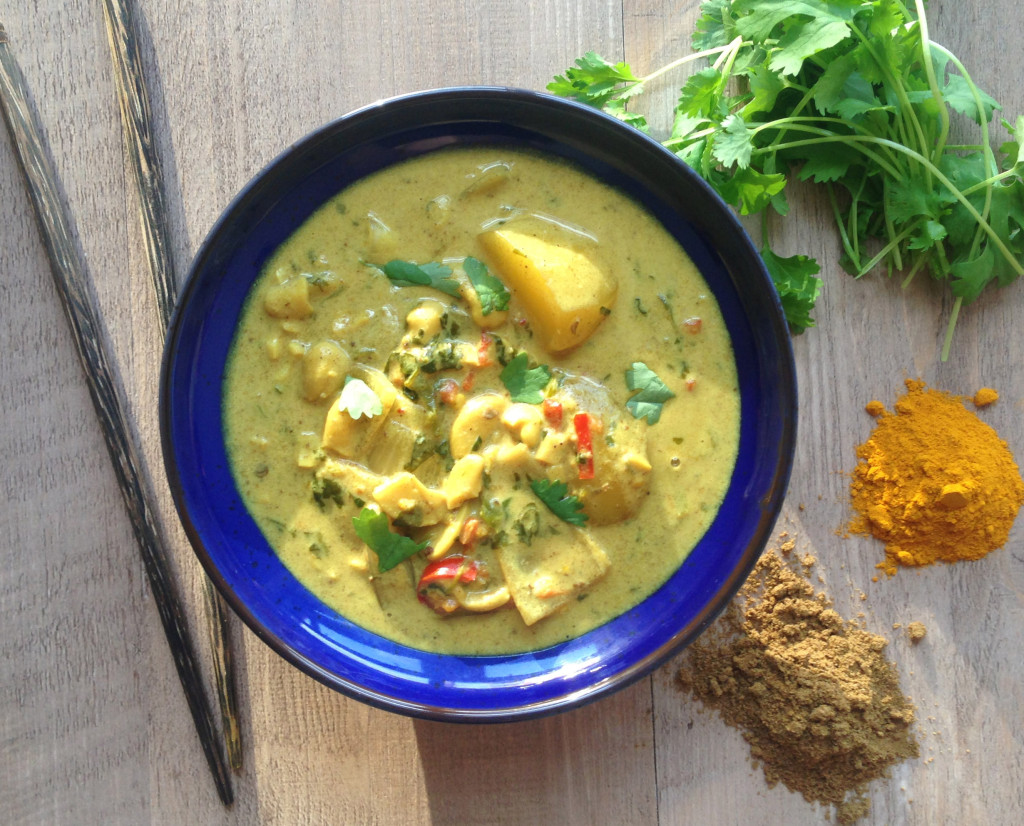 Thai Vegetable Massaman Curry
Ingredients
Curry Paste

1 red chilli (finely chopped)
1 green chilli (finely chopped)
1 tsp galangal
1 tsp coriander seeds
1 tsp fresh ginger
2 cloves of garlic (finely chopped)
30g fresh coriander (finely chopped)
1 tsp ground nutmeg
1 tbsp turmeric
1 tbsp ground cumin
10ml vegetable oil
10ml soy sauce
10ml fish sauce

Curry

1 large bay leaf
160ml coconut cream
400ml coconut milk
200g white potatoes (peeled and cut into bitesize pieces)
3 shallots (cut into quarters)
50g cashew nuts
Method
Place a large wok over a high heat. Once the pan has heated up, add the turmeric, nutmeg, ground cumin and coriander seeds (make sure you grind down the seeds into a powder using a pestle and mortar). Make sure there is no moisture in the pan when you're doing this because you simply want to dry roast the powders to release their flavour. This should only take around 30 seconds and you should start to smell the aroma of the spices as soon as you move them around.
Add the vegetable oil, chilli, fresh coriander, garlic, ginger, galangal, soy and fish sauce. Stir the pan frequently for another 30 seconds until all of the flavours have mixed into a wet paste.
Throw in the shallots, potatoes and cashew nuts and stir them until they're lightly coated in the paste.
Add the coconut cream, coconut milk and the bay leaf and mix everything together well. Bring the pan to the boil and then reduce down the heat so that it's just simmering. Leave the curry to simmer for around 25-30 minutes, remove the bay leaf and it'll be ready to eat.
https://pescetarian.kitchen/thai-vegetable-massaman-curry/
Copyright Pescetarian.Kitchen