Risotto happens to be one of my Mum's favourite dishes. If there was ever a seafood risotto on the menu when we ate out, she would order it. When, as a child, I asked her why she never made it at home she told me it always seemed too difficult to make. So after years of trying out different risotto recipes, some good and some not so good, I've learnt that one thing is absolutely essential: patience. Risotto rice takes a long while to cook and absorb the flavour you choose to use, to giving it the time it needs is vital.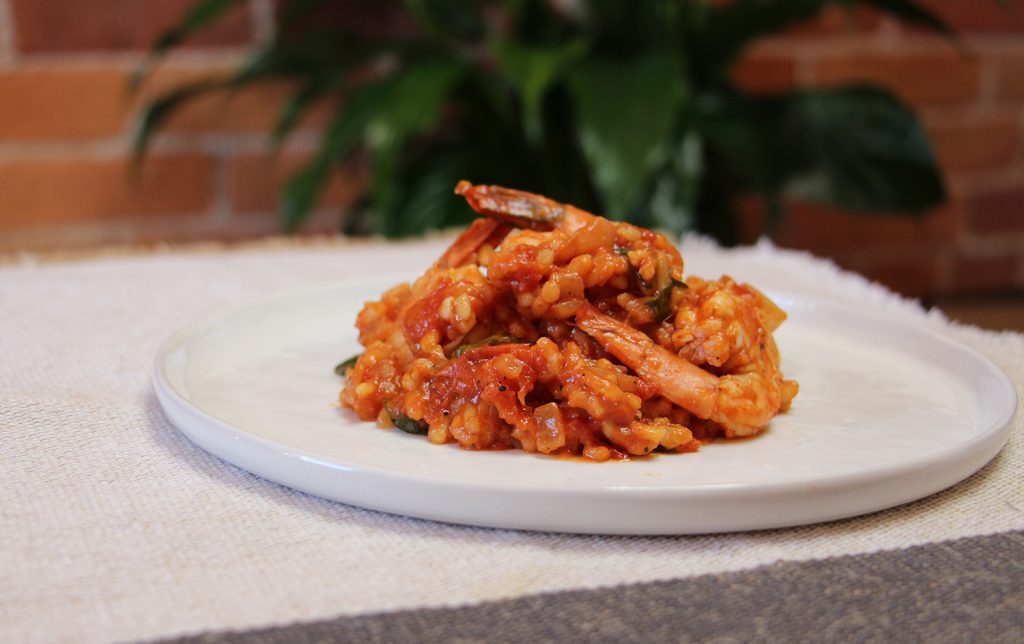 This recipe is a rich and creamy tomato based risotto, which uses fresh cherry tomatoes and basil leaves. The trick to this recipe is stirring the rice regularly, especially during the first 10 minutes or so, as this will help the rice cook evenly and stop it from sticking to the pan as it absorbs the stock. I like to serve this risotto with a sprinkling of vegetarian Parmesan, which is of course optional.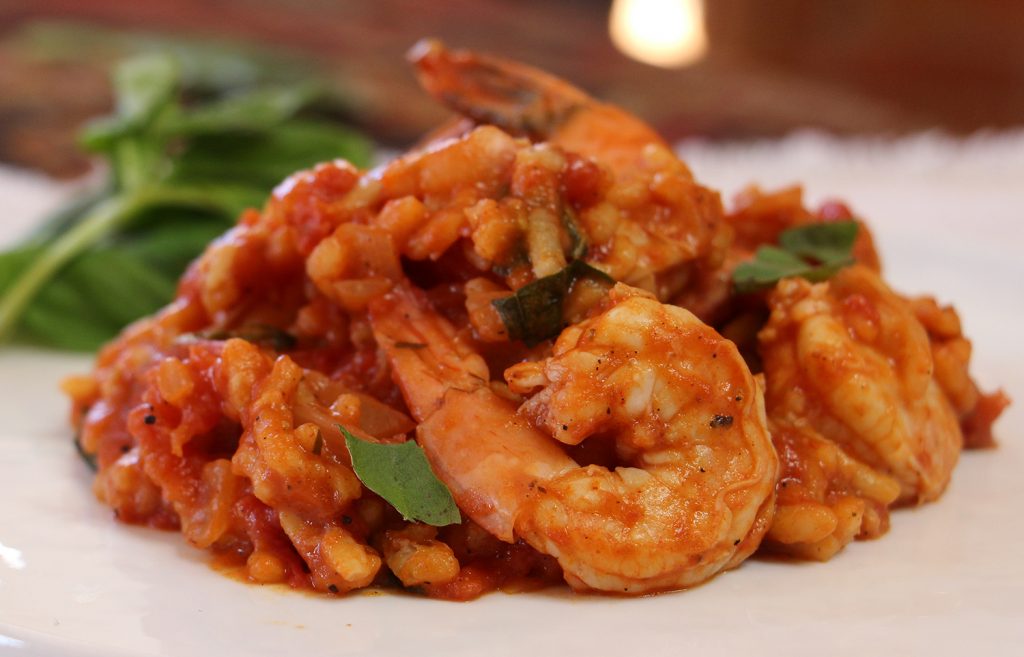 Tomato and Shrimp Risotto
Ingredients
400ml vegetable stock
1 glug of olive oil
1 small onion, finely chopped
1 garlic clove, minced
220g arborio/risotto rice
150g cheery tomatoes, quartered
400g tin of chopped tomatoes
1/2 tsp sugar
1/2 tsp pepper
1/4 tsp paprika
300g raw shrimp
handful of basil. torn
small handful of grated vegetarian Parmesan
Method
Begin by boiling the stock in a large pan and leave to the side.
Get a deep frying pan and put on a medium heat. Pour in the olive oil and add the onion, garlic and rice. Stir regularly to ensure all of the rice is coated in oil and does not stick to the pan.
When the onions become translucent (this should take around 3-4 minutes) add in 1 ladel of stock. Keep stirring while the rice absorbs the stock and when it is completely absorbed , add another ladel of stock. Keep doing this until all of the stock has been absorbed by the rice.
Next, add in the fresh cherry tomatoes and the chopped tomatoes. and stir into the rice. This should be followed by the sugar (to counteract the tartness of the tomatoes), the pepper and the paprika. Now you should let the risotto simmer for around 10-12 minutes, stirring regularly.
The next step is adding your shrimp. Make sure to coat them in the sauce so they cooked evenly and thoroughly. After around 3-5 minutes, the shrimp will pink all over and you're almost done!
Add the basil and serve, sprinkling a little Parmesan on each serving.
https://pescetarian.kitchen/tomato-prawn-risotto/
Copyright Pescetarian.Kitchen