Udon noodle soup is one of those soups that warms me up from head to toe. As I'm writing this, I'm watching the snow fall thick and fast outside my window and feeling very lucky that there's a big bowl of this udon noodle soup sat waiting for my in the fridge, which I will be devouring at lunch. It's also a favourite of mine for when I'm not feeling well – the chilli  in this steamy soup clears out my airways and the ginger is great for settling stomachs.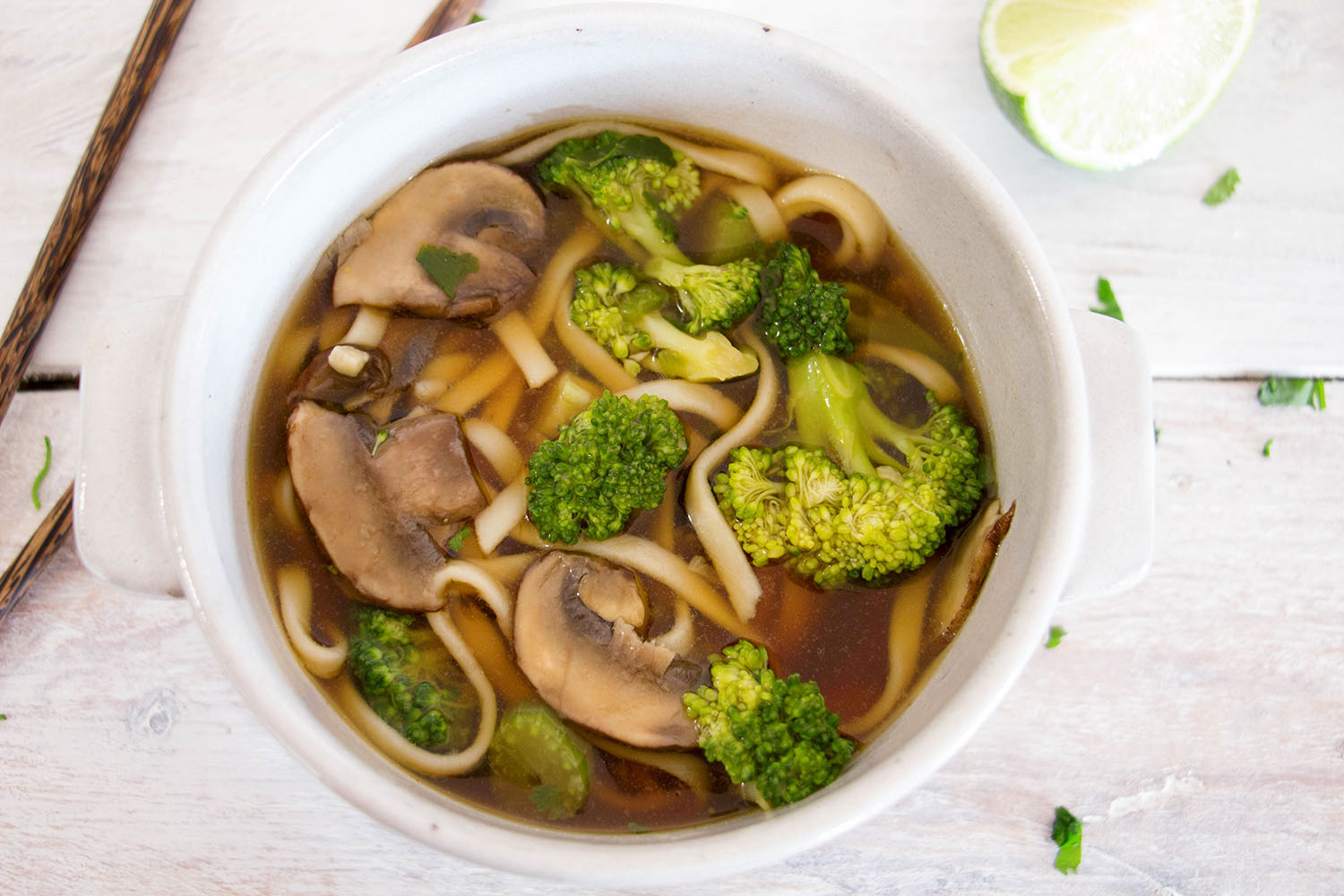 So basically, this soup checks all the boxes. Healthy? Tasty? Easy to make? Check, check, check!
The broth is rich and packed with East Asian flavours and you can mix up the recipe with your favourite vegetables, or whatever you have lying around. I sometimes add in bean sprouts and cashew nuts for a little extra crunch, or if I'm running low on greens! And you can use either fresh or dried udon noodles, whichever you prefer. The fresh noodles tend to be a little thicker whilst the dried will not expand as much.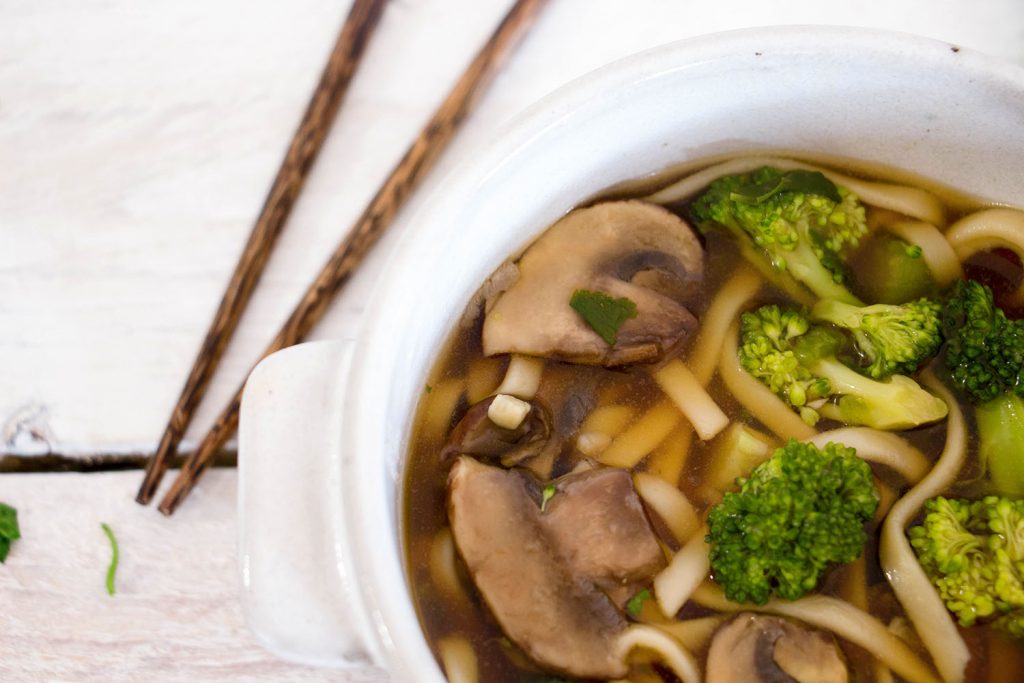 You can either use store bought teriyaki sauce, or if you want to make your own, try out our teriyaki sauce recipe for the best sweet and sticky teriyaki sauce there is.
Ingredients
1 tbsp sesame oil
4 cloves of garlic, finely chopped
1 thumb of ginger, finely chopped
1/2 green Serrano chilli, finely chopped
1 celery stick, finely chopped
3 scallions, finely chopped
1 large broccoli head, cut into florets
5.3 oz mushrooms, sliced thinly
1 5oz can of sliced waterchestnuts
5 tbsp soy sauce
3 tbsp teriyaki sauce
6 cups of vegetable stock
6oz udon noodles
1 handful of cilantro, finely chopped
Method
Begin by placing a large saucepan on a medium heat and adding in the sesame oil. When it's nice and hot, throw in the garlic, ginger, scallions, chilli, celery and broccoli and fry away for around 3 minutes, stirring regularly.
Then add in the mushrooms and water chestnuts and fry for a further 2 minutes. This is so that the mushrooms don't get over fried and loose their texture.
Next, add in the soy sauce, teriyaki sauce and vegetable stock and bring the soup to the boil. Then turn the heat down and simmer for 10 minutes.
Meanwhile, if you've used dried noodles, you'll want to cook them now according to the instructions on the packet.
Finally, add the noodles to your soup and serve up with a handful of chopped cilantro in each bowl!
https://pescetarian.kitchen/udon-noodle-soup/
Copyright Pescetarian.Kitchen